Dr. Carroll Brownlow (CB) Hastings
March 5, 1916 - December 18, 2006
A Note About the Service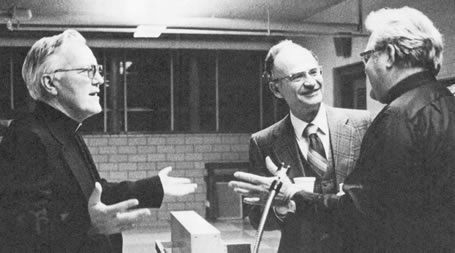 It is not difficult to think of elements of worship when planning a service for Dad for so much of what he loved is embodied in this communal event. The words chosen "For Your Meditation" reflect his teaching nature, with a deep connection to original word study and meaning. The music of a service was as critical to him as ice cream and cake were to a successful meal – unimaginable without it. His love of hymn, organ and anthem were not Sunday pursuits but joys he brought to every day of the week (and sometimes the middle of the night). The anthems in today's service, Sanctus and My Eternal King were particular favorites, and since the loss of his dear wife, Jeanette, four years ago, Jerusalem, the Golden has been a companion tune that he sang and mentioned often.
We begin with scripture reading because it is the bedrock of Dad's spiritual landscape – he labored in its fertile soil and walked in its bountiful gardens. We have tried in the tributes to capture this multi-faceted man, for he engaged life in many different ways. Late in his ministry, he seemed to sense he could have done better still, to have stretched even further, admonishing us with the words:
Without the fire of the Spirit of the Living God, all your commitments to progress on the human plane will soon come to a petering stall. And the worst psychological result is self-incrimination and socially destructive criticisms. So, devote your ministry to the "holy". Much as they are out of fashion in today's highly technological, "can-do" age, the saints of old have not survived without the real contribution their lives and writings continue to make and to feed the "holy" in many diverse peoples and cultures. . . Unfortunately, I discovered the riches of all of these only in recent years. It should have been a counter to my overweening dedication to the scholarly approach. Even when I sought to bring the highest concepts of theological and biblical study to bear upon the understanding of the laity, I knew I was often offering "cold taters". You can feed the mind and motivate the will only so far without the impulse of the Spirit to effect the highest motivation.
Thank you for joining us today and for letting us share memories and celebrations of a sometimes peculiar, often particular, but always devoted servant of God.
---
The
Hastings
family is so grateful for those participating in the service today; their gifts have made this day what our Dad truly would have wanted in a memorial. Our thanks to ~
Dr. Ron Higdon, Intentional Interim Minister, Highland Park Baptist Church
Dr. Glenn Igleheart, former Director (1975-1985), Department of Interfaith Witness of the Southern Baptist Home Mission Board
Dr. Suzanne Pence, Minister of Music, Highland Park Baptist Church
Dr. Brooks Whitmore, Organist and Associate Director of Music, Highland Park Baptist Church
Special thanks to Ray Waugh for videotaping today's service.
---
The
Hastings
are

creating a collection of CB's writings, tributes and remembrances of him.
If you would like to contribute to this project, please send your document to John Hastings at:
The completed collection will be on this web site.
Last Updated: Jan 8, 2007